No one likes to go to Municipal courts and pay traffic tickets manually. It can be embarrassing, time-consuming and It is, just odd! To resolve all these issues with traffic ticket payments in NJ, NJMCDirect online website came into existence.
What is NJMCDirect?
The NJMCDirect is an online platform that allows the residents of New Jersey to pay for their traffic tickets online without the need for a manual visit to pay. NJMCDirect is owned by and operated by NJ Municipal Courts. Anyone who has violated traffic rules in New Jersey state is handed over a traffic violation ticket. Previously, the offender had to visit the New Jersey Municipal Courts and pay the fine against the ticket. This often involved waiting in long queues and albeit, it is quite embarrassing.
Now, with NJMCDirect, offenders no longer need to visit the NJ Municipal Courts. They can simply visit the website, login, and pay the money right from the comfort of their homes.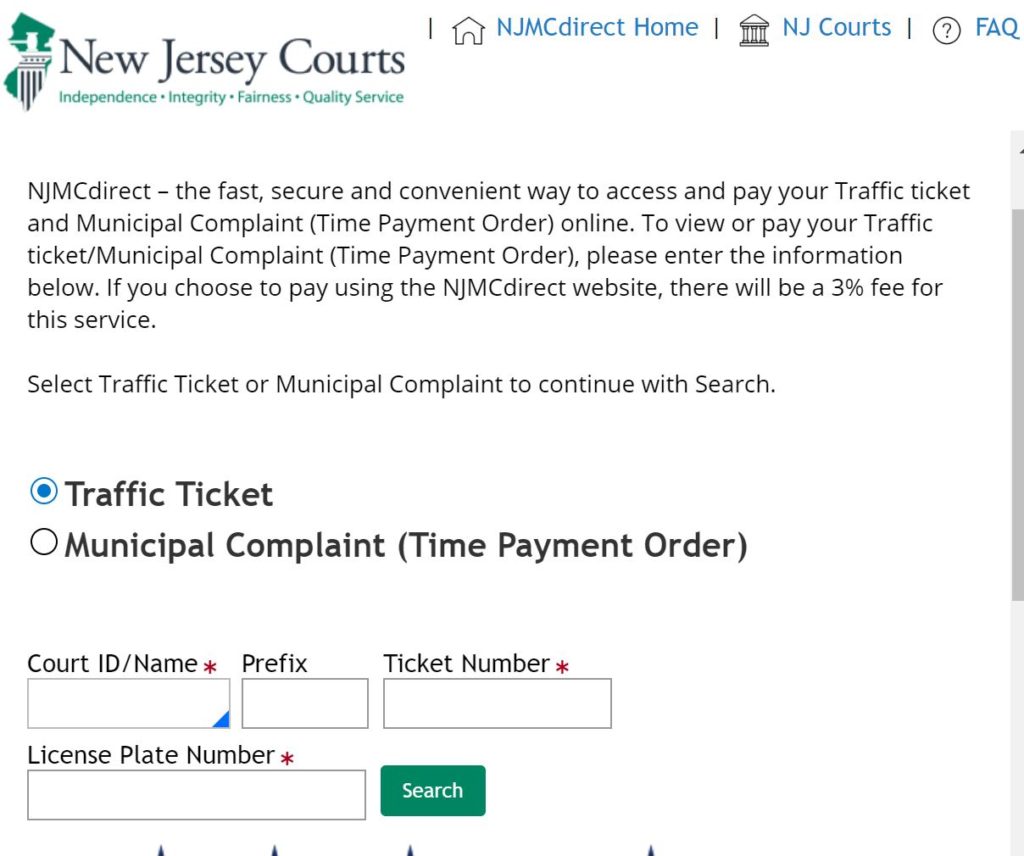 WWW.NJMCDIRECT.COM Traffic Ticket Payment Online
Once you have your ticket number in hand, you can follow the steps below:
Visit the NJMCDirect website by clicking on this link.
On the page that you land, you will see two options – Traffic Ticket (selected by default) and Municipal Complaint.
Pull out your traffic ticket and input the details in the necessary fields. You need to provide the following:

Court ID/Name
Prefix
Ticket Number
License Plate Number

Once you enter the necessary details, click on the green Search button.
You will receive the necessary details. Now go ahead and make the payment due.
The process is pretty simple. However, there are a few things that you need to keep in mind:
You can pay using only a VISA or a MasterCard debit or credit card.
You need to pay within the specified or deadline.
Payments at NJMCDirect are accepted only at certain hours of the day. So, you must ensure that you make a payment within those daily time limits.
Note: In case you want to pay your New Jersey traffic ticket online, you will have to pay a 3% service fee.
Guide to Pay NJ Traffic Ticket Online
Before we start with the guide, let us take a quick look at how to search your traffic ticket online. In case you already have your ticket in place, you do not need to follow these steps. You can read the payment guide directly.
Finding NJ Ticket Number Online
Municipal Court Case Search for Searching Ticket number in case you do not have your ticket number, you can follow the steps below to search for your ticket:
Visit this website of Municipal Courts Case Search.
Agree to terms and conditions.
On the next page, that is the case search page, select License Number from the dropdown.
Enter the license number and then select the state.
Enter the Captcha code in the given field.
Hit the search button.
Once you hit the search button, you will get the list of all the cases that have been registered under your name. Once you have the recent case number, you can get all the details including your traffic ticket number.
NJMCDirect Payment Working Hours
As mentioned in the guide above, there are specific working hours every day when you can make the payments online. The complete list of the working hours is provided below:
Monday to Thursday: 4:30 AM to 11:15 PM EST.
Friday: 4:30 AM to 10:15 PM EST.
Saturday: 4:30 AM to 3:15 PM EST.
Sunday: 1:00 PM to 11:15 PM EST.
You cannot may a payment outside these working hours.
NJMCDirect Contact Details
Once you make a payment using NJMCDirect, your contact details will be retained for a period of 90 days or 3 months. In case you experience some difficulty, you can contact the New Jersey Municipal Courts and clarify such issues. The different methods of contact that you can use are:
If you want to make a phone call: 973-284-4945.
If you want to send a fax: 973-284-4914.
If you want to pay a physical visit, here is the address: NJMC Public Safety Building, 2nd Floor, 228 Chesnutt Street.
You can contact them between 8 AM and 4 PM from Monday to Friday.
So, what are the benefits of using this portal?
Benefits of Using NJMCdirect.com
No need to manually visit the municipal courts. This saves time.
Using the online portal keeps the felony hidden, thereby saving the offender from embarrassment.
Using the online portal is easy and quick. So, no more waiting in queues.
Prevents failure of honoring court dates for a visit.
Who can use NJMCDirect?
Any resident of New Jersey can use NJMCDirect.
Any resident of New Jersey who has received a traffic ticket and still has a valid deadline for payment. In other words, those offenders who fail to pay (either directly at court or through the online portal) within the specified deadline cannot use the online portal. It is a must that a person liable to pay traffic ticket fines has to pay within the due date if he or she wants to pay using the NJMCDirect.
Requirements to Pay New Jersey Traffic Tickets
In order to use the New Jersey Municipal Courts Direct website, you will need to have the following things in place:
Your traffic ticket number.
In case you do not have the ticket number or you lost the ticket, you will need your vehicle's license number. In case you do not have access to your traffic ticket, you can head to this website (Municipal Courts Case Search) and use your license number to search for the ticket.
Your debit card or a credit card. You will need to have a VISA or a MasterCard. You may also use an American Express card.
A desktop computer or a laptop with an active Internet connection.
Some Basic Questions and Answers
What is an NJ surcharge on a ticket?
A New Jersey surcharge is fine. This fine is assessed by NJSVS or New Jersey Surcharge Violation System.
The assessment takes place annually. The assessment is done to drivers who:
Have excessive points because of the violation of traffic rules.
Have been convicted by NJ Municipal Courts because of specific offenses like driving despite being suspended, driving while intoxicated, etc.
Surcharges, as the name suggests, are levied above the penalties and fines levied by the courts.
How to pay NJ surcharge?
Paying NJ surcharge is not at all complicated. There are multiple methods that you can utilize for paying the surcharge. The methods are:
Visit the NJSurcharge website and fill in the necessary details and hit the submit button. Once you provide the details and click on submit, you will be allowed to make an online payment using your debit card or credit card. Do keep in mind that the card you use should be a VISA or a MasterCard.
You can call 844-424-6829 and follow the steps mentioned during the call. You will need to have your ATM card with you while making the call.
You can send a money order or a check.
You can also make the payment using Western Union Money Transfer.
Can you pay parking tickets online in New Jersey?
Yes, that is possible. It is basically paying through the NJMCDirect online portal. The process has been described above.
How much is a seat belt ticket in NJ?
Failure to wear a seat belt while driving in New Jersey is a violation of traffic rules and if caught, it will attract fine. The fine for not wearing a seat belt while driving in New Jersey is $46.
How many points is a speeding ticket in NJ?
The number points a driver gets for a speeding ticket in New Jersey is variable. It is dependent on the vehicle speed above the limit.
Here is a complete list:
| | |
| --- | --- |
| Vehicle speed above the speed limit | Number of points |
| 1 to 9 mph | 2 |
| 10 to 14 mph | 2 |
| 15 to 19 mph | 4 |
| 20 to 24 mph | 4 |
| 25 to 29 mph | 4 |
| 30 to 34 mph | 5 |
| 35 to 39 mph | 5 |
Again, the associate fine is variable too. The complete list is:
| | |
| --- | --- |
| Vehicle speed above the speed limit | Fine amount |
| 1 to 9 mph | $ 85 |
| 10 to 14 mph | $ 95 |
| 15 to 19 mph | $ 105 |
| 20 to 24 mph | $ 200 |
| 25 to 29 mph | $ 220 |
| 30 to 34 mph | $ 240 |
| 35 to 39 mph | $ 269 |
That's all! In case you have any other questions, feel free to drop your query in the comment section. We will try to solve your query as soon as possible.
Finally, while traffic tickets and surcharges may sound a bit overrated, the whole idea behind the system is to ensure your safety and the safety of others. Follow the traffic rules and you should not face any trouble.
Don't forget, your loved ones are waiting for you at home. So, take care while driving. You get life only once. Don't waste it. Speeding and breaking other traffic rules can give adrenaline rush but it also puts your life at risk.